Property Id : 100158
Property Size: 404 m2
Property Lot Size: 2.000 m2
Rooms: 6
Bedrooms: 4
Bathrooms: 4
Energy class: B
Description
Life in La Vinya unfolds against the backdrop of a modern reinterpretation of the Palladian villa. Sensitivity is the keynote in expansive show villa in which outdoor and indoor spaces, patios, porches and pergolas extend outwards, mingling with the natural setting. It is where the bedroom terraces are built from stone that blends in perfectly with the surroundings and where the upper terraces and patios become vantage points, set within a landscape in which the house?s single volume rests, natural and abstract.
The vision for this home is laid out around a series of symbolic spaces, in homage to a Mediterranean country villa. The home is accessed from an elevated patio, reinstating the main carriage entrances of the Palladian villas. The terrace offers magnificent views over the golf course, extending the vista from the living room and making it a privileged vantage point overlooking the landscape. Protected from view and occupying a dominant position, the swimming pool blends beautifully with the house in a spectacular bathing area in which to enjoy an exceptional sensory experience. Each and every one of the elements in the house offers the luxury of being an exclusive product.
About the Architect
Lagula Architects
Lagula Architects are a team of architects who combine the influences of youth and experience in their search for new ideas. Their projects have become renowned and been awarded prizes both at a national and international level. Their team of five associate architects has been friends since they studied at ETSA in Barcelona. Their architecture achieves its aims by means of multi-potential research, realism and a radical functionality towards the end user.
Welcome to Spain?s best-kept secret, a wild landscape that inspired the genius of Dali and Gaudi. PGA Catalunya Resort enjoys an enviable location, both in terms of beauty and accessibility. The forested estate is tucked within the beauty of mature pines, majestic mountain ranges and is home to two extraordinary golf courses ranked 2nd in Spain, 3rd in continental Europe and 88th in the world. The estate is only ten minutes from Girona, a classical city offering world-class shopping, cuisine and historical treasures. Several idyllic seaside villages and sandy beaches are close by and the longest ski runs in the Pyrenees are only a bit more than an hour away. You can get to Barcelona on the motorway in less than an hour, while the planned high-speed train will soon provide even faster connections to the rest of Spain and Europe including Barcelona city centre in only 27 minutes. It is a location and lifestyle like no other. Arguably, it is one of the best kept secrets in Spain.

Other Features
Air Condition
Fireplace
Fitted Kitchen
Guest Toilet
Open Kitchen
Swimming Pool
Ähnliche Immobilien
1.400.000 €
SIFERA emerges as conjunction of the different contributions of the architecture, engineer
...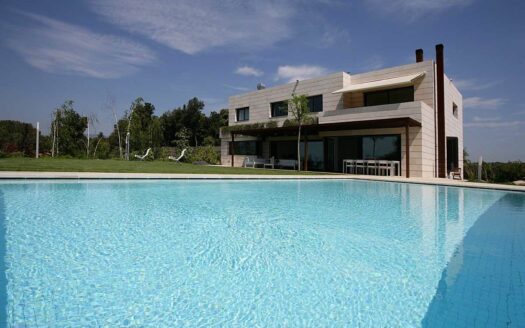 1.750.000 €
This almost new high-tech villa is located only 10 min from the centre of Girona. A privil
...